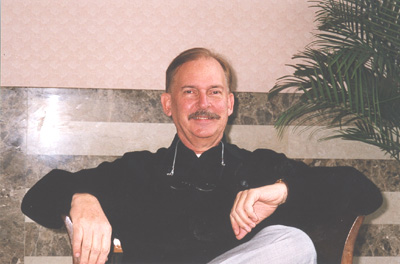 November 15, 1999
Language and Pattern in Architecture
SYNOPSIS
Professor Benninger has been concerned about the materiality of his works, which date back to the early 1970's. He believes in " honesty of expression" wherein materials are expressed in their natural form. His work in India is characterized by brick and stone bearing walls, exposed concrete work and glass panels. He often uses sloped tile roofs.Through the years Professor Benninger has evolved a consistent way of using materials, which he calls LANGUAGE. This language uses a group of " motifs" as words.
On the other hand he contrasts PATTERN from LANGUAGE, describing PATTERN as the order through which a building's plans, sections and elevations are structured. Benninger sees PATTERN as an evolving and transmuting system of order and LANGUAGE as an additive system.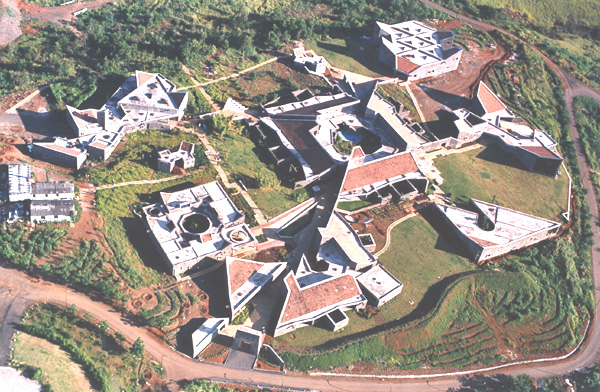 Aerial View of Mahindra United World College
In his presentation he will focus on The Mahindra United World College of India, for which he won the prestigious Designer of the Year award. He will compare the PATTERN of the college with that of earlier work, particularly The Alliance Francais at Ahmedabad, and the Center for Development Studies and Activities at Pune. The Alliance Francais is patterned on a square grid and on a system of square subdivisions of the 15' by 15' which order the plan. The Center for Development Studies and Activities is ordered by a PATTERN of parallel stone bearing walls. These run east and west. Steel box beams span between these, supporting tile roofs. The north - south walls intersect sliding glass panels, which are set back in verandhas for protection. These two projects derive space out of the " Construction System", adding and subtracting modules of volume. In both cases the PATTERNS are evolved from Cartesian lineal systems, rooted in construction modules.
While the Mahindra United World College of India uses the same LANGUAGE as the earlier projects, the PATTERN is born out of Benninger's perception of movement through space, or what he describes as the " Experience of Space". The approach breaks radically from his earlier works.
In all of the PATTERNS Benninger is concerned with the "Fabrics" he is creating, which emanate from elements he defines as support, span and envelope. While Benninger's work follows a long period of transition and evolution, and his recent work is considered a radical departure in India, his work stands alone as unique and uninfluenced by current trends or fads.
CURRICULUM VITAE
Professor Christopher Benninger has been living in India over the past thirty years where he founded The School of Urban Planning at Ahmedabad and The Center for Development Studies and Activities at Pune. Professor Benninger studied urban planning at Mass. Institute of Technology, and architecture at Harvard's GSD where he also taught in later in the 1960's
Professor Benninger worked in the studio of Jose Luis Sert, and as an advisor to the Cambridge City Planning Board, prior to his departure to India. He has been an advisor to the World Bank, the Asian Development Bank and various agencies of the UNO. He wrote the theme paper for the Seventh Session of the United Nations Commission on Human Settlements. He published articles in EKISTICS (Greece); SPAZIO E SOCIETA (Italy); ARCHITECTURE PLUS DESIGN, HABITAT INTERNATIONAL and CITIES (United Kingdom) on which he is a member of the Board of Editors. Professor Benninger was closely associated with Barbara Ward, Balkrishna Doshi, Jane Drew and Maxwell Fry during his early professional career.
Professor Benninger currently runs a studio in Pune, India consisting of a team of twenty architects and engineers. His work is focused on campuses and institutions. His recent work includes the Institute of Social Sciences at New Delhi, the library extension to the Gokhale Institute at Pune, The Nagarjuna Institute at Nagpur, the Ellora Sculpture Park and Fine Arts Institute, The Headquarters Complex for the Cochin Refineries, the Center for Development Studies and Activities, and the Mahindra United World College of India, both in Pune.
Professor Benninger was awarded the Designer of the Year Award for 1998 in India recently. He is a Distinguished Professor at the Center for Environmental Planning and Technology (Ahmedabad) and a visiting critic at the Goa College of Architecture.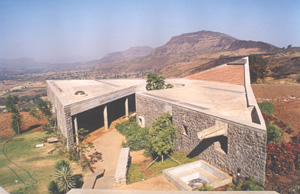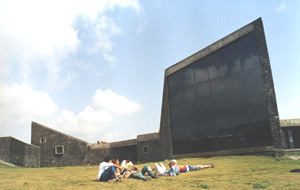 PUBLICATIONS
Ekistics, "Models of Habitat Mobility in Transitional Economics," February, 1970.
Ekistics," Design for Development," February ,1972
"Rules and Regulations," Settlement in South East Asia, United Nations Publication, Institute of Development studies, Mysore University, 1976
"Situations and Settings,"International Year book of Child Psychiatry.,1978
Habitat International," Training for the Improvement of Slums and Squatter Areas in Urban and Rural Communities", [Vol IV, No. 1/2} United Kingdom, 1979.
"Small Enterprises within the Third World Economic System," Cities, Vol .2, No.4, November 1985
Habitat International," Training for the Improvement of Human Settlements "January,1987.
"Housing for the urban poor;" Spazio-e-Societa, July-September, 1987
"Kenizoburo Oe", A Review of his contribution, in BIBLIO, May, 1996
"Akhada," a short story in Femina, April 1997.
" The This and the That," in Architecture Plus Design, September , 1997.
ARTICLES ON CHRISTOPHER BENNINGER
Modern Architecture in India,chapter on the "The Center for Development Studies and Activities at Pune."by S.Bagha, Galgotia publishing, New Delhi.
Indian Architecture since Independence, J. Lang and M.Desai, 1995, Mapin, Ahmedabad.
"Christopher Charles Benninger Designs the MUWCI,Design Digest July 1998, pp16-21.
The Indian Architect and Builder, pp30-43, "The Mahindra United World College of India," May, 1999.
Inside- Outside,pp98-109,"Designer of the Year: Christopher Benninger, "July 1999.
Mid Day, Sunday Supplement, 25th of July, 1999, "Environmentally Friendly Architecture."
The Times of India,Sunday Magazine, 12th September,1999. "Christopher Benninger."